At Four Blank & Ten Design Group, we believe that desirable interiors are no longer the picture perfect static beige spaces of the 80's and 90's. These spaces don't reflect who we are. Our Firm specializes in a wide range of styles from contemporary to traditional. We love travel artifacts and collections sitting alongside our grandmother's pieces. Interiors are shifting away from stark presentation, to warmer and more livable spaces. This new school of thought makes that piece of pottery shipped back from a trip to Mexico very at home atop your great aunt's century old buffet. This juxtaposition isn't strange but a reflection of us in our spaces.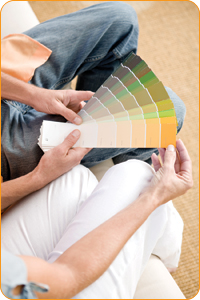 We believe that the practice of designing interiors that are trendy and disposable is giving way to a movement towards quality and longevity. We often live away from our families so we look to show our history & roots in our spaces. We want spaces to center us, rather than display us. The "Me" generation has our clients excited about exploring different eras, colors, textures, styles, and lines. We want our surroundings to speak to us and who we are, and we CAN have it all. Our design firm cannot wait to work each day to share in the experience.
Four Blank & Ten Design Group will meet any and all of your design needs. If you are building a new home, remodeling an existing home or rooms, we will work with you to create the space you envision. We also provide management of large and complex projects, and project team referrals. Our goal is to give you exactly what you want and create your dream spaces. We collaborate with you to bring your visions to life by listening to you and defining your needs. You can be involved as little or as much as you'd like. Our services are available to you as you choose. We accomplish your goals by utilizing our years of experience creating and working with the finest products and vendors. We can introduce you to ideas that you've never considered or thought workable in your space. We will do everything necessary to make your design experience a positive and memorable one, while minimizing those surprises everyone dreads. As our clients have said, your home will be your sanctuary and a joy to live in.
We are now a Crystorama lighting dealer, also selling Graham & Brown wallpaper, as well as Flor carpet design squares. Our new location inside Leopold Bloom & Co. affords us resources for antiques and home decor on site. If we don't have the perfect item for your project, we will be sure to find it!
Services
Conceptual development and space planning
Renderings and sketches of entire rooms before committing to purchases
Referrals for architects, builders, artisans, craftsmen
Project Manager and Liaison with architects, contractors, builders, artisans, and craftsmen
Kitchen And Bath Design
Architectural Finish Materials Selection & Specification
Custom Built-Ins And Cabinetry Designs
Custom closet and storage design
Home Office Design
Lighting Design
Exterior Design: Materials, Decorative Details, Gates, Etc
Design of Mantles, fireplace surrounds, fire screens
Handrail designs, interior and exterior
Plumbing fixture selections

Conceptual development and space planning
Furnishings and fabric selections
Furniture sizes customized to fit your body
Furniture placement and arrangements
Exquisite custom draperies
Color Consultation & Specification
Paint colors selection
Exterior furniture design, decorative garden objects, containers and plantings
Furniture maintenance and repair referrals
Decorative & functional light fixture selections
Coordination of client's existing furniture for moving and consignment
Home textile maintenance services

Art Framing and custom installations
Expert Fine tapestries consultations and selection
Expert antiques selections and care
Personal needs design
Turn key services which allow you to move in with only your suitcases – everything else is done
Staging and design for model homes
Consultation and staging of real estate that is listed for sale to present the home at it's best in order to facilitate a quick sale