< Back to Residential Project Gallery
Wing Project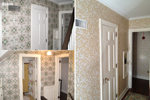 After spending many years focusing on her rental homes, Ms. Wing decided that it was time for her to focus on her own home for a change. To jump-start the updates and renovations to her home, she decided that it was time to finish the removal of the several layers of wallpaper in the foyer and back hallway. Since this is the first thing that is seen upon entering the home, she figured that it was the best place to start.
The wallpaper that was under the current yellow layer - the green circles and flowers – was the original pattern that was most likely installed when the home was built in the 1940's. Even though this pattern was probably 60+ years old, it was a really great pattern. We decided to use this as inspiration in our search for a new wallpaper patterns for the foyer and the back hall.
In the foyer we ended up going with a very bold pattern that is reminiscent of floral wallpaper patterns of the past, but with a decidedly modern twist that makes it work with the decorating styles of today. In the back hallway, where light is at a premium we decided to go with a second, much lighter pattern in order to brighten the space as much as possible.
As part of the updating of the foyer and hall all the door and floor trim was repainted, the hardwood floors & stair bannister were refinished, new switch plate & outlet covers installed and new matching handrail hardware was used to reattach the new – stained to match – handrail to the wall. A new carpet runner for the stairs was created using a patterned carpet that coordinated with the new trim color and the accent color in the wallpaper pattern, as well as a custom rug to act as a walk-off area in front of the door. New lighting from Crystorama provides the "bling" that we needed to tie the whole space together and give it that cohesive look to blend old and new.
Over the next few months we will continue to look for artwork, mirrors, and accent pieces for the walls to complete the space as we move on to other rooms in the home.