< Back to Residential Project Gallery
Long Kitchen Remodel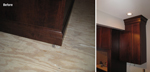 This family had been trying to come up with a kitchen remodel that they could all agree on for almost 17 of their 20 years in the house – and no one had yet been able to convince them to pull the trigger with their design. Constructed for a local builder in 1979 the home was likely ahead of its time for the day, but was more than ready for a little update.
Like most clients in older homes, the Long's wanted to not only update their kitchen but also open it up to the family room in order to create a more functional space. They also wanted to make the space lighter, brighter and more modern. The original kitchen, while large, was not very functional for someone who loves to cook and bake as the homeowners do. While the layout was basically a large galley style kitchen, the counters were separated by 10 feet of open floor. There was also a small pantry that was located behind the short "L" portion of the kitchen that was too narrow to be useful.
To accomplish the task of opening the kitchen to the family room we not only widened the existing opening, another was added. Both openings were raised to ceiling height in order to make the rooms feel more like one space since. Because both the kitchen and family room are so large there were several structural beams that could not be removed, but several faux beams were taken out. The kitchen layout was totally changed removing the pantry to allow for a far more usable cabinet layout. A large 9 foot island was added where previously there was only open space, which allowed us to create a cooks area contained on one side with a bar for guests and much needed additional space for buffet style serving for large parties on the other.
The cabinets that we chose are maple construction with a medium gingersnap stain from Medallion Cabinetry. Because the cabinets are relatively dark we decided on a light Crema Bordeaux granite to provide contrast as well as lighten up the space. To add interest and movement to the backsplash we used a linear tile that incorporates pieces of both granite and glass to catch the light of the under-cabinet lighting. Appliances are from GE's commercial-style Café line. New dark stained stranded bamboo flooring with matching HVAC covers flows from the dining room, through the kitchen and into the family room. What were previously dark rooms covered in paneling or wallpaper are now much lighter and brighter thanks not only to lighter wall paint colors but also more natural light provided by a new double window in the family room.